Laying the foundation stone: Panattoni and Noerpel Group celebrate in Giengen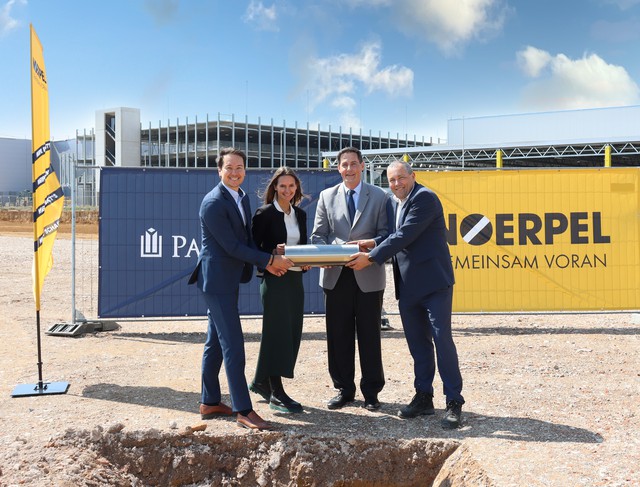 Panattoni, the leading project developer for industrial and logistics properties in Europe, and C.E. Noerpel GmbH, an international transport and logistics service provider based in Ulm with 16 further freight-forwarding and logistics sites in Germany and Switzerland, celebrated the symbolic laying of the first stone at the new logistics centre in Giengen an der Brenz, Baden-Wuerttemberg, on 28 April 2022. The build-to-suit facility will be the fifth development project Panattoni has taken on for the Noerpel Group. It has completed previous projects in Elsdorf, Odelzhausen, Heidenheim and Singen.
The new logistics centre is under construction on an approx. 74,100 m2 site and, upon completion, will offer around 46,000 m2 of total floor space. This will be divided into approx. 39,000 m2 of hall space, approx. 1,500 m2 of office space and approx. 5,100 m2 of mezzanine space. The building height is 12 m (to bottom of girders). The site will include a dedicated parking structure with parking spaces for employees. Thanks to installation of foil insulation in line with the requirements of the German Water Management Act (WHG) and a retention system for extinguishing water, the premises will offer the long-term flexibility needed to store all manner of goods.
Panattoni is developing the premises directly adjacent to the A7 autobahn. The Noerpel Group already has an approximately 46,000 m2 logistics centre in Giengen. The new terminal is a response to high customer demand. Noerpel has already assigned part of the additional space to an existing customer looking to expand their logistics projects with Noerpel.
As part of its resource-conserving and sustainable development approach, Panattoni is aiming to achieve Gold certification from the German Sustainable Building Council (DGNB) for the new logistics centre. In addition to pre-fitting and installing EV charging points, the developer also plans to implement a planted green roof.
"With the new terminal at our Giengen location, we are significantly increasing the logistics space available to us there and can respond even better to customer demand for modern storage and outstanding logistics services. In this project with Panattoni, we once again have a partner at our side that implements our wishes and requirements with their customary reliability and professionalism," said Berthold Bernecker, member of the Noerpel Group Management Board.
Dieter Henle, Mayor of Giengen an der Brenz, expressed his delight at the new centre's importance for the local labour market and emphasised the importance of logistics in economic processes. "Having logistical processes performed by specialists makes industrial processes more efficient and offers engaging jobs for trained specialists and support staff alike," he said. "If you are smart, technically gifted and ready to take on responsibility, you can find exciting challenges in logistics and make a difference in many respects. Here in Giengen, we offer the perfect location for small and medium-sized enterprises as well as logistics companies in GIP A7 – and we deeply value the collaboration with dependable partners like Noerpel and Panattoni!"
"We're delighted to have the opportunity to develop a premises for the Noerpel Group for the fifth time, this time in Giengen. By laying the first stone today, we have already reached an important milestone in the property's construction. We are grateful to the City of Giengen and the Noerpel Group for their excellent collaboration on this project," said Fred-Markus Bohne, Managing Partner at Panattoni, commenting on the start of building work.
Panattoni started construction in Q1 of 2022, with completion scheduled for the end of 2022.
About Noerpel:
The Noerpel Group was founded in 1881 and is now one of the leading logistics providers in southern Germany. With 17 locations in Germany and Switzerland, 11 of which are in Baden-Wuerttemberg and Bavaria alone, the family company from Ulm is one of the fastest growing companies in the industry. The Noerpel Group combines transport and logistics with comprehensive co-packing services and its own personnel service. In the business year 2021, the Noerpel Group generated a turnover of around 550 million euros. http://www.noerpel.de