Panattoni achieves full occupancy at newly built premises in Nuremberg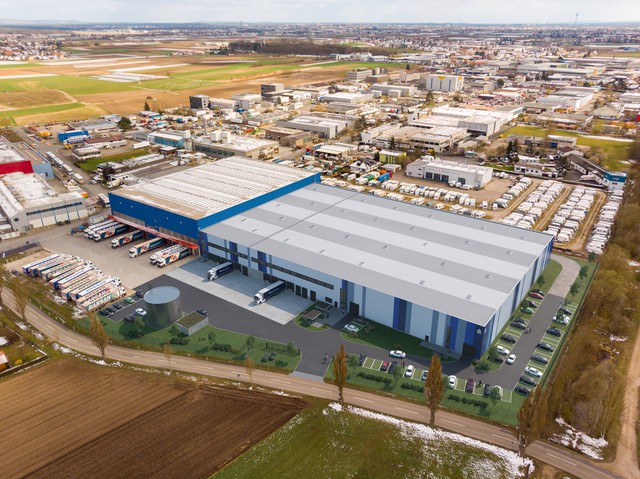 Panattoni, the leading project developer for industrial and logistics properties in Europe, has rented out the third hall section of its newly built premises in Nuremberg – and with it, one of the last such properties on the market in Nuremberg, Bavaria. By securing this agreement, the developer has achieved full occupancy at its modern logistics premises nine months prior to its completion. In addition to the existing user, the international logistics service provider Barsan Global Logistik GmbH, the site will now also accommodate a major construction equipment manufacturer. The company, which specialises in large-scale tools and machinery, plans to use its new location as a supply and commissioning space.
The new tenant at Panattoni Park Nuremberg will take possession of total floor space of 9,270 m2. This includes around 8,000 m2 of hall space, 670 m2 of office space and social areas, and 600 m2 of mezzanine space. The building will have a clear internal height of 10 m (to bottom of roof truss) and a floor bearing capacity of 6 t/m2. The rented space is a new-build hall extension on the premises of Barsan Global Logistik GmbH.
It is under construction on a 32,000 m2 brownfield site and is among the last available spaces in Nuremberg. Due to high demand, there are no further new-build spaces available in the region, while pre-existing spaces are now very limited. The premises is situated in Schmalau industrial estate, Nuremberg, in the immediate vicinity of the A3 and A73 federal autobahns and with excellent East-West and North-South connections.
As part of its efforts to ensure a high-quality and sustainable project, Panattoni is building the new premises in line with the German Sustainable Building Council (DGNB) Gold standard. In addition, Panattoni is implementing further measures targeting resource conservation and social responsibility. For example, it is installing charging points for EVs and, in coordination with the local authorities in Fürth, creating a cycle path to the site. A photovoltaic system has already been installed on the existing building.
"We are pleased to announce that a further user has been secured as the first tenant of the third hall section in Nuremberg. With the space in our modern new building, we were able to offer our international tenant an attractive solution to support their continued growth in Nuremberg, a region in which such spaces are at a premium," said Fred-Markus Bohne, Managing Partner at Panattoni.
The arrival of the construction equipment manufacturer means that Panattoni has now rented out 100% of the space in its new building on Wetzlarer Strasse in Nuremberg. The developer plans to hand over the premises in December 2022.
Markus Happerger of real-estate specialist Realogis in Munich brokered the deal with the new tenant.
For further information about the project, please visit: www.panattoni-nuernberg.de