Panattoni and Dachser celebrate ground-breaking ceremony in Dettelbach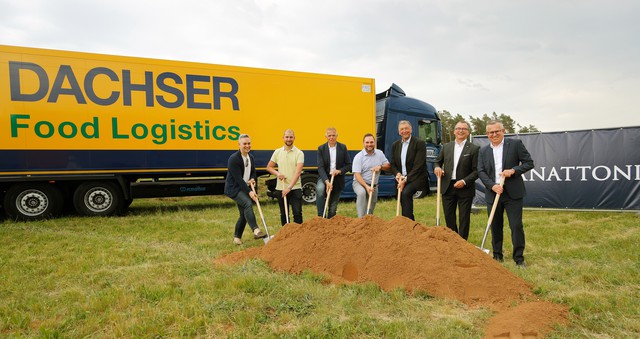 Panattoni, Europe's leading project developer for industrial and logistics real estate, and Dachser celebrated the symbolic ground-breaking ceremony at Panattoni Park Würzburg Ost in Dettelbach, Bavaria, on 20 May 2022. Dachser is a family-owned, international company with its headquarters in Kempten, Bavaria. It provides customers with transport logistics, warehousing and customised services within the fields of Air & Sea Logistics and Road Logistics. In addition to representatives of Dachser and Panattoni, the mayor of Dettelbach, Matthias Bielek, and representatives of the general contractor Goldbeck were present at the ceremony.
Dachser will take possession of around 10,000 m2 of usable space, distributed between 8,820 m² of logistics space, 700 m² of office and social areas, and 240 m² of mezzanine space.The hall has a clear internal height of 12.20 m (to bottom of girders), with 14 ramp spaces for unloading lorries and generously sized waiting zones for lorries in the outside areas. In the interests of sustainable construction, Panattoni aims to meet the Gold Standard of the DGNB (German Sustainable Building Council) for the entire park.
For the new location, the globally active logistics service provider primarily envisages the handling of contract logistics services for customers from the industrial goods and food sectors. This includes transport, warehousing and customer-specific additional services such as picking and packing, as well as display construction. The halls can be regulated to different temperature ranges, enabling the storage of refrigerated food.
"With the expansion in Dettelbach - in the very heart of Europe - and in the immediate vicinity of our Würzburg logistics centre in Kürnach, we are responding to the increased demand for warehousing and order-picking facilities," says Jan-Oliver Schneider, branch manager of Dachser's Würzburg logistics centre. "We are investing in the future of Würzburg and enabling our customers - and potential new customers - to expand and grow their business. Transport and warehousing from a single source reduces complexity, and our multi-user approach creates synergies for our customers," adds Alfred Miller, Managing Director of Dachser Food Logistics. "We are a stable partner for our customers and a reliable supplier to the region."
"The development of the Panattoni Park in Dettelbach is an opportunity for the community, providing Dachser with ideal conditions for training new skilled workers and thus contributing to the creation of new jobs here locally. We would like to thank Panattoni for their successful collaboration," says Matthias Bielek, first mayor of Dettelbach.
Panattoni Park Würzburg Ost has a total usable area of around 97,500 m², distributed over two independent buildings, and is being built on the 164,000 m² industrial wasteland of Wanit-Fulgurit GmbH, which used the site for the production of façade and roof panels as well as plastic profiles. The brownfield site lies midway between the economic centres of Nuremberg and Frankfurt am Main and has excellent connections to the A3 federal autobahn as well as the two motorway junctions A3/A7 and A3/A81.
"We have a long and trusting partnership with Dachser which now spans over seven successfully implemented projects within Germany. From their announcing the need for new premises to the quick acceptance of the lease is a matter of course now for us. With Dachser and s.Oliver, we are pleased to welcome two well-known companies to Panattoni Park Würzburg Ost and we are already looking forward to see who will show interest in the last remaining almost 8,700 m² of logistics space," says Fred-Markus Bohne, Managing Partner at Panattoni for Germany and Austria.
On account of the site's industrial history, soil contamination was a topic that had to be dealt with in advance and certain remediation measures were carried out. Panattoni started demolishing the existing buildings at the end of 2021; above-ground construction will begin in mid-2022 and completion is scheduled for early 2023.
About Dachser:
Dachser is a family-owned company with its headquarters in Kempten, Germany. It provides transport logistics, warehousing and customer-specific services within two business fields: Dachser Air & Sea Logistics and Dachser Road Logistics. The latter is further divided into the two business divisions Dachser European Logistics and Dachser Food Logistics. Comprehensive contract logistics services and industry-specific solutions round off the company's offering. An extensive European and intercontinental transport network and fully integrated information systems ensure intelligent logistics solutions worldwide.
With around 31,800 employees at 376 locations worldwide, Dachser generated a turnover of 7.1 billion euros in 2021. The logistics service provider handled a total of 83.6 million consignments weighing 42.8 million tonnes. Dachser has offices in 42 countries.