Panattoni celebrates ground-breaking ceremony for City Dock Düsseldorf Hilden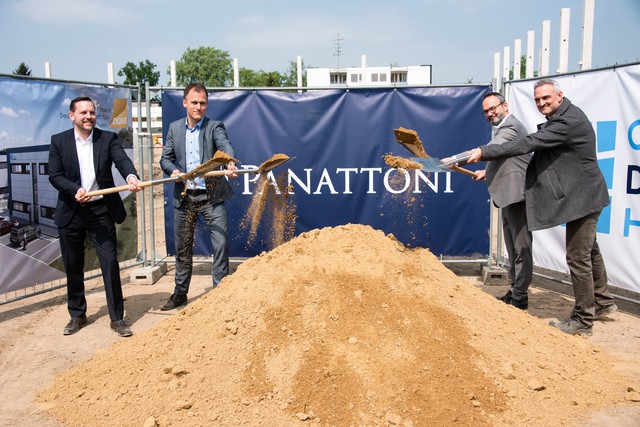 Panattoni, the leading project developer for industrial and logistics properties in Europe, held a symbolic ground-breaking ceremony on 4 May 2022 to mark the start of construction work on City Dock Düsseldorf Hilden in the town of Hilden, North Rhine-Westphalia. The celebration was attended by Dr Claus Pommer, the mayor of Hilden, Christian Schwenger, team leader at Hilden's economic development office, along with representatives from Panattoni and the project's general contractor, List Bau.
The modern business park is under construction on a 27,500 m² brownfield site that was formerly home to a felt factory, situated at the centre of the economic hubs of Essen, Duisburg, Düsseldorf, Leverkusen and Wuppertal. Once completed, the premises will offer potential users 17 units with a total commercial area of 17,200 m2, divided across four building complexes and with rental spaces starting from 1,000 m2. Each building will have a usable height of 8 m (to bottom of girders). In the interests of sustainable and energy-efficient development, Panattoni is aiming to achieve Gold certification from the German Sustainable Building Council (DGNB) on this project.
The site is located in Hilden's south-western industrial estate and has excellent connections to the A3, A46 and A59 federal autobahns. The city of Düsseldorf, which boasts both an airport and an inland port, is just 25 minutes away by road. An S-Bahn station and bus stop are a 10-minute walk from the site.
"There is high demand for combined hall-and-office premises in Hilden. With that in mind, I'm delighted that the City Dock in Hilden offers new opportunities for companies and could create over 150 jobs. Although redeveloping the site was a challenge, Panattoni has successfully opened up future prospects for the brownfield site, which was home to the former felt factory," said the mayor of Hilden, Dr Claus Pommer.
Panattoni's City Dock concept is a novel solution for developing commercial areas in urban locations that appeal to a wide range of users with diverse business models. Small and medium-sized enterprises (SMEs), light industry, trade, commerce and start-ups benefit in particular from the spaces' demand-oriented usability and constant expandability, as well as from excellent connections and infrastructure. The spaces' flexibility and modular design means that tenants can expand, divide or merge them in line with their needs.
Mike Evers, Head of Business Development Business Parks at Panattoni, issued the following comments to mark the start of construction: "The economy in Hilden is characterised by a distinctive mix of trades and industries. As modern commercial spaces suitable for various uses, City Docks are ideally suited to further expanding the range of sectors in Hilden, particularly in relation to small and medium-sized enterprises. We would like to thank the local authorities in Hilden for their constructive and cordial collaboration."
This development is the tenth City Dock project that Panattoni has undertaken since 2019. In addition to City Docks at the Berlin Spandau, Falkensee and Alt-Hohenschönhausen locations, the developer is also working on further projects in locations including Essen, Kirchheim near Munich, the Lower Saxon capital Hanover, as well as in Leonberg and Sindelfingen, both in Baden-Württemberg.
Panattoni expects City Dock Düsseldorf Hilden to be fully completed by Q1 of 2023.
For more details, visit: www.city-dock.de