Skat City Altenburg: Playing Card Factory Altenburg and Panattoni Celebrate Ground-Breaking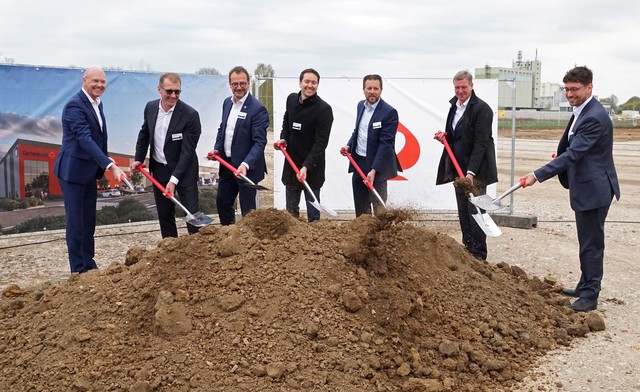 Panattoni, the leading project developer for industrial and logistics facilities in Europe, held a ground-breaking ceremony for the new customised facility in Altenburg, Thuringia, on 20 April 2022 together with Spielkartenfabrik Altenburg GmbH. Playing card factory Altenburg is the oldest well-known developer and producer of playing cards in Europe and is a part of the internationally operating Belgian playing card producer Cartamundi. In addition to representatives of ASS Altenburger/Cartamundi, Panattoni and general contractor Goldbeck, the State Secretary of the Free State of Thuringia's Ministry for Economic Affairs, Science and the Digital Society, Carsten Feller, the State Development Corporation of Thuringia, represented by Andreas Krey, as well as the Mayor of Altenburg City, André Neumann, participated in the event.
The sustainable facility is rising on a brown field measuring about 77,500 m2 and will have a total floor space of about 20,500 m2 after completion. 17,500 m2 of that floor space is production and storage space, and about 2,700 m2 is office space and social areas. Extensive technical building equipment allows the East Thuringian card and game producer of traditional playing cards to expand its varied product range of family, educational, and board games. The future building will be used for production, storage, logistics, administration, and as a representative location for customers and partners.
"The 'build-to-suit' solution developed with Panattoni for our new location creates the best conditions for continuing our success story of developing the playing card factory Altenburg. Not only does it allow us to work innovatively on improving production processes and opportunities, but we are also creating an optimal and sustainable environment for our employees. This is a stated goal of the Cartamundi Group," says Jürgen Gehr, Vice President Publishing CEE of Cartamundi Group and Managing Director of Spielkartenfabrik Altenburg GmbH.
Carsten Feller, State Secretary in the Thuringian Ministry of Economic Affairs, sees the investment as ensuring for years to come the competitive position and further growth of the playing card factory at its traditional location in Altenburg. "Altenburg City is famous for developing the card game Skat in the 19th century. To this day, the region is drawing economic strength and tourist appeal from these roots. The new factory will contribute to asserting and expanding Altenburg's position as a German card game centre." In addition, the well-known card and game producer is integrating into the overall concept of the planned "Spielewelt Altenburg" (World of Games Altenburg), which is also supported by the state, as an important anchor company.
Panattoni is aiming for Gold certification from the DGNB (German Sustainable Building Council) for the construction work by using resource-efficient and sustainable methods. For this purpose, the developer is implementing a comprehensive package to achieve climate protection, species conservation, environmental measures, and social sustainability. In addition to installing a cistern for collecting water to be used to flush toilets and water plants, electric charging stations provide for a low-emission mobility solution. Furthermore, the new building's roof structure will be prepared for a solar panel system. Panattoni is designing the facility's outdoor spaces with boule and grilling spaces as wellness-related areas for employees. Furthermore, generous areas for tree plantings, meadows with wild flowers and a variety of bee hives and nesting boxes are planned to compensate for the buildings.
"Panattoni develops the facility at the LEG (State Development Corporation) location Altenburg-North-east, which has very good connections to the city centre, the federal roads B93 and B180, as well as the Altenburg train station," says Andreas Krey, Managing Director of Landesentwicklungsgesellschaft Thüringen mbH. "It is a conversion space that had been previously used by the military; taking extensive development measures, we have reclaimed it for industrial use."
To allow for optimum use of the entire plot both for the new construction and for potential expansion options, the city changed the development plan. Furthermore, closure and demolition of a public road, as well as re-routing of a potable water line, are necessary.
The Mayor of Altenburg City, André Neumann, comments on the project as follows: "Spielkartenfabrik Altenburg GmbH largely contributes to the fact that Altenburg City continues to be known far and wide for the production of playing cards. It could be said that the playing card factory has dealt us good cards and it is up to us to turn them into a trick for attracting tourism. With its commitment to the Altenburg location and related creation of jobs, the Altenburg playing card factory sets an important signal that Altenburg is developing into a city with future prospects. With the implementation of the vision 'Altenburg 2030', we will set a signal that the playing card factory decided correctly."
"In Altenburg, we are developing an extensive project with great economic importance to Thuringia state. With the joint ground-breaking ceremony, we are now taking an important step to implement the project. We thank all participants for their coordination and cooperation based on trust and partnership," comments Fred-Markus Bohne, Managing Partner at Panattoni.