About us
Panattoni Europe is the European branch of one of the world's largest industrial developers, the Panattoni Development Company, established in the USA in 1986 by Carl Panattoni. In subsequent years new branches have appeared, initially in the USA and Canada then in Great Britain and across Europe.

In addition to the head office located in Newport Beach, California, we operate in 33 offices managing investments in 200 European and North American markets. Our worldwide portfolio accounts for over 39 million sqm of completed space for over 2500 clients. Panattoni's history began as an industrial developer and our aims and beliefs  remain the same to this day.
Panattoni has a proven track record in the development, construction and management of industrial space.  The first European office opened in London in 2004 and since then the company has expanded to establish a Pan-European base of operations under the brand Panattoni Europe. The Company has developed over 10.5 million sqm in Europe since its inception. Panattoni Europe has office locations in Poland, Great Britain, the Czech Republic, Luxemburg, The Netherlands, Germany, and Spain.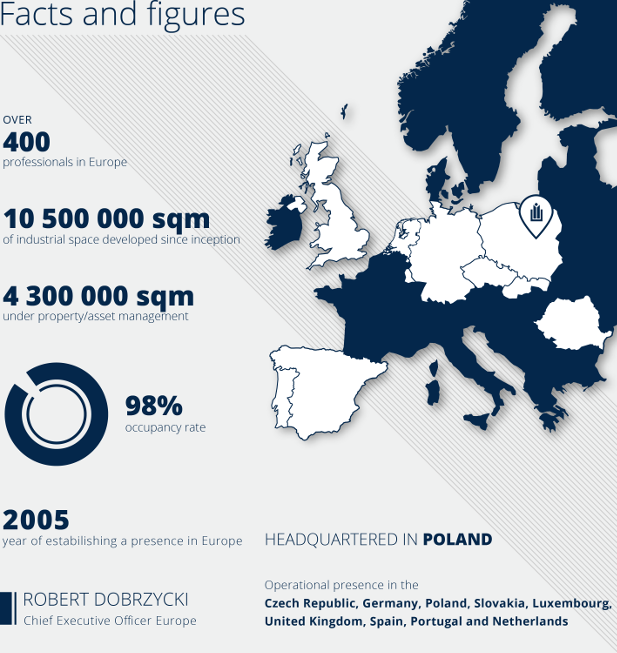 Team
Panattoni Europe employees are pro-active and flexible with regard to customer approach. We owe the company's dynamic development to our team of experienced workers providing extensive experience and profound knowledge of the local markets in which we operate. Panattoni investments are executed by experts in the field of real estate design, finance and property management  complemented by a solid subcontractor base.
We have executed projects for more than 200 clients from such diverse industries as logistics, food, pharmaceuticals, retail and automotive as well as  heavy and light production.